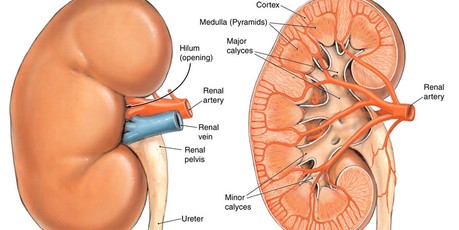 Anastasia Cunningham | Jamaica Gleaner
With a prevalence rate of approximately 500 in every 100,000 Jamaicans who will be afflicted with the ailment, chronic kidney disease is a serious problem in Jamaica.
In fact, according to Dr Adedamola Soyibo, consultant physician and nephrologist in the Department of Medicine at the University of the West Indies, three quarters of persons with diabetes and a quarter of those with hypertension will develop renal failure.
"If you have diabetes, you are at risk to develop kidney failure, and with every kidney failure that you develop, you get hypertension. And once you develop hypertension, regardless of what stage of kidney failure you are at, it gets worst rapidly. So you see the connection between all three," Soyibo told Health.
And, he added, these are lifestyle-related diseases.
He said more than 50 per cent of persons with renal failure stem from hypertension, and more than 27 per cent is from diabetes, so there is, in fact, a high percentage of both lifestyle-related diseases being responsible for the problem.
"So, you ask the question, if you had money now and the Government had limited funding and you were to pick one area that you want to spend the money on, that one area would be chronic non-communicable disease, that is diabetes and hypertension. Those two are the leading cause of kidney failure in Jamaica, globally, in fact," he stated.
This week, as the world commemorates World Kidney Awareness Day under the theme 'Chronic Kidney Disease and Ageing', the focus is to raise awareness that chronic kidney disease can develop at any age, but becomes more common with increasing age.
Currently, more than 2,000 Jamaicans are on the registry with chronic kidney disease, and the working class accounts for the highest percentage with more than 50 per cent of that number. While for the paediatrics patients, Jamaica is at approximately number four compared to the rest of the world, in terms of the prevalence rate.
Approximately 800 of those on the registry are on dialysis, suffering from end-stage renal failure. That represents 80 per cent of persons who should be on dialysis but cannot afford to.
Soyibo lamented that the availability of dialysis treatment in the public-health facilities is very limited, while the high cost to do it privately is extremely prohibitive to the average Jamaican. The situation is even more serious for paediatric patients, as the University Hospital of the West Indies is the only place that currently offers dialysis for children under 12.
In order to save their lives and bring this chronic condition to a manageable level, more than 50 per cent of persons with the disease are in immediate need of a kidney transplant. The medical doctor is, therefore, urgently calling on organ and monetary donation.
"Transplantation is the cheapest and gives you the best quality of life, for both adults and children with end-stage renal failure. This drives home the dire need for live kidney donors as well as organ procurement from cadaver, (brain-dead persons). We need to set up a programme where we can effectively do organ procurement," he said.
Healthy persons with no predisposition to kidney disease who want to become a kidney or organ donors are urged to visit the nearest hospital and sign up.
Individuals and companies are also urged to contribute financially to the cause. Donations can be made to: The Jamaica Kidney Kids Foundation for paediatric care; to assist the University Hospital of the West Indies and the chronic kidney patients, The University Renal Foundation; or to donate to research and assist the wider Caribbean, The Caribbean Institute of Nephrology.
LIFESTYLE CHANGES
Started in 2006 and commemorated on the second Thursday in March each year, the mission of World Kidney Day is to raise awareness of the importance of the kidneys to one's overall health and to reduce the frequency and impact of kidney disease and its associated health problems worldwide.
If detected early, chronic kidney diseases can be treated, thereby reducing other complications and dramatically reduce the growing burden of deaths and disability from chronic renal and cardiovascular disease worldwide.
Soyibo said locally they would continue to educate the population on the importance of kidney health.
"We will continue to identify people at the early stage, screening those who are at risk, find effective treatment to slow the progression, followed by treatment. We will also continue to emphasise the things that they can do to stem this disease. Simple things like regular checking of your blood pressure, blood sugar levels, cholesterol and do a urine test," he said.
"We are not adequately screening people for the problem. If you have diabetes or hypertension, you need to be screened and treated appropriately. And if you have a family history of kidney failure, you need to be kept under vigilance because it often stems from a lifestyle disease, it is preventable."
However, he pointed out, some persons do inherit the disease or are born with a defect or other ailments that lead to kidney disease.
The doctor is also beseeching Jamaicans to make critical lifestyle changes. These include drinking adequate amounts of water, maintaining a proper, healthy diet, having a regular exercise routine, reducing salt intake; and if persons have any predisposing risk factor, get regular medical checkups.
"These simple measures can go a long way in saving your life, improving the quality of your life and saving you millions of dollars," the nephrologist stressed.