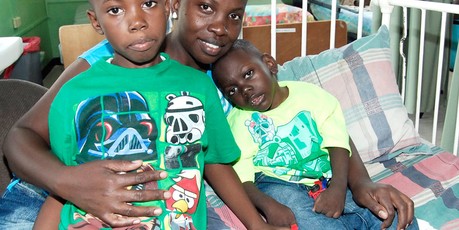 Jody-Anne Lawrence | Jamaica Gleaner 
Javarie McDonald lies in the arms of his mother, Anneika Douglas, arms demanding to be fed the best way he knows how – through tears. A tube running from his stomach to the dialysis machine, he is unable to walk or speak. He's the consumate image of a baby, but Javarie is seven years old.
Javarie looks nothing close to his age. He was dealt a hard blow at the age of two when he was diagnosed with a neuro degenerative disorder which is yet to be specified. At age five, he was diagnosed with kidney disease. This led to him being hypertensive and anaemic. Children with kidney disease are usually anaemic, hypertensive, and constantly wetting themselves. Some are unable to eat certain foods that are high in sodium and potassium. For Javarie, he is even limited to the amount of water he can drink each day.
He is the youngest of two children, and since his birth his father has popped in and out of his life.
"Ever since the diagnosis, he has not been there. He contributes every now and again, but nothing substantial that can help at all with Javarie's upkeep," Douglas told Flair. She placed Javarie on the bed at the University Hospital of the West Indies and began relating her struggles as a single parent taking care of her child.
"I am unable to work. When he was just diagnosed with the 'neuro' illness, I could cope and did some babysitting from home, but not since the kidney disease. He has to take 13 medications and I can't even afford that," Douglas laments.
Douglas went on to explain that Javarie needs to be on peritoneal dialysis three times a week – Mondays, Wednesdays and Fridays. This makes it impossible for her to find a job. She has to stay with him for the 10 hours that he is on the machine. She survives on handouts from friends and the support of the Jamaica Kidney Kids Foundation (JFFK) because even family member that she thought would help her has left her behind.
hopeful for recovery
"It is hard. I live in Spanish Town and Anthoni-Shay goes to school in Portmore, and with the dialysis three times a week, sometimes I just cry," Douglas tells Flair.
As she tells her story I see her older son, Anthoni-Shay, reach out to his little brother as Javarie grabs hold of his finger. He tries to play with him the best way he knows how by holding his hand and touching his nose. This situation has affected Anthoni-Shay as well.
"He says to me: 'Mommy, I want Javarie to play football with me. He could play with me if he wasn't sick'."
Despite it all, she is still hopeful that Javarie will recover, especially with the support that she has been receiving from the JKKF and the support group that the mothers associated with JKKF started to encourage each other.
The foundation was started two years ago by Dr Maolynne Miller, after recognising the growth of children with kidney disease. According to Dr Miller, there are children with the disease who have been successfully treated. One such child is Tajae Dowdie who has been on dialysis for 10 years. Now 17 years old, he is in sixth form at a prominent high school in Kingston. "I do not want people to think that this is a dead-end street, because it is not. People can live for years on dialysis before they get the transplant that they need," Miller explained.
The JKKF has stumbled into their fair share of roadblocks through the limited resources they have to provide for these families that cannot afford treatment for their children."We have received some funds from a few independent organisations, but the parents need the help because they can't even afford to pay for the dialysis much less the 10 to 15 medication they might need for the child because of the disease," Miller explained. Among the donations that they received were two peritoneal dialysis cyclers, from friends associated with the ISSA Trust.
They have one glimmer of hope being one of the beneficiaries of the recent Sagicor Sigma Corporate Run. However, things are expensive and most of the parents have to travel far distances to the only two places in Jamaica that provide dialysis for children.
"Adults with kidney disease have places across the island where they can get dialysis. They can go to Cornwall Regional, KPH (Kingston Public Hospital) Spanish Town and a few others. Children can only come here or go to the Bustamante Hospital for Children," notes Miller, explaining the challenges that they face.
However, the foundation is not only working to help the children financially but the country as well, as they offer a scholarship programme to get more doctors specialised in paediatric nephrology as there are currently only three in the island. Another has already been elected to study in Montreal, Canada.
For International Kidney Week (March 9-15), JKKF will have an exhibition at Sovereign Centre in Liguanea on Saturday, March 15, to educate the public on kidney disease in children.
Despite all the challenges that they face, the organisation told Flair that they have no intention of giving up the fight for these children.
Things to look out for to prevent kidney disease in children:
1. See if your child has a problem urinating. This could be caused by blockage in the bladder, which could be an easy fix, but could lead to kidney disease if ignored.
2. If the urine smells bad. If the urine has an unusual scent it could be due to some problem in the bladder, so one should check it out.
3. Puffy eyes are also things that parents just identify with allergies and administer medication without proper diagnosis. This can also be a symptom of kidney disease. Dr Maolynne Miller stated, "We have had some diagnosis delayed by a DPH because of puffy eyes."
4. Constantly wetting themselves. If the child is always damp because they are constantly dripping this should be checked out by doctor.
To avoid kidney failure parents should ensure that a child does not get dehydrated during illnesses that might cause vomiting and diarrhoea. When dehydration occurs for an extended period of time, the kidneys can shut down and there is no guarantee that the kidneys will recover.