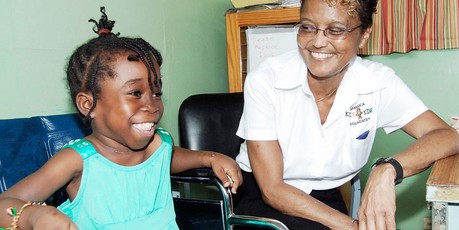 Dr. Maolynne Miller (contributor) | Jamaica Gleaner
Renal (kidney) disease in children is not confined to chronic kidney failure, though this is the area that receives the most attention. Children may be born with absent or abnormal kidneys, or kidneys obstructed by malformations of the collecting system from the kidney to the bladder.
Other kidney-related problems in children include nephritis (kidney inflammation associated with dark or bloody urine, swelling of the body, reduced urine production and acute kidney failure), nephrotic syndrome (swelling of the face and body associated with large amounts of protein in the urine), hypertension, kidney stones. Nephritis often results from infected insect bites and sore throats, and, frequently, the puffy eyes of the nephrotic syndrome have been misdiagnosed as allergic.
During a medical examination, some healthy children may be found to have blood or protein in their urine. Further evaluation by a kidney specialist (paediatric nephrologist) is needed for diagnosis and treatment.
Additionally, it has been observed that it is common for schoolchildren to have problems with bladder function, either urinating too often or not enough, incontinence (wetting) in daytime and/or at night. The problems relating to urinary frequency and incontinence also require specialist referral.
Bedwetting is common and a source of frustration to Jamaican families. In most instances, it is related to immaturity and will improve with time, but bedwetting may be a sign of diabetes, kidney disease and disorders of the nerves supplying the bladder.
Incontinence beyond age six should be investigated and medical attention sought even earlier, if there is continuous incontinence, burning with urination and abnormalities of the lower spine (a swelling or a tuft of hair).
Urinary-tract infections are also common in children. Early treatment and focused investigation can reduce the potential for kidney damage.
INCIDENCE RISING
The incidence of chronic kidney disease in Jamaican children under age 12 has been steadily rising, from three per million age-related population (PMARP) between 1985 and 2000, to four PMARP between 2001 and 2006. From 2007 to 2012, it has more than doubled to just over seven PMARP.
In the earliest data (1985-2000), late diagnosis and treatment of glomerular disease resulted in the majority of cases of chronic kidney disease (50 per cent). However, with the advent of the island's first paediatric nephrology (paediatric kidney) service, in 1984, and a determined thrust at physician education in recognising and referring children with unusual disease, this percentage has fallen to 25 per cent in the 2007-2012 statistics.
Thanks to antenatal ultrasound and earlier investigation of childhood urinary-tract infections, children with congenital kidney and bladder (urological) abnormalities are being identified earlier. However, statistics still show that urological abnormalities have been the commonest cause of chronic kidney disease in children since 2001. This, in part, is because the abnormally developed kidney may have reduced function from birth, which does not improve with age.
Since 1985, fewer children have died from end-stage kidney disease and more children are offered dialysis. Unfortunately, dialysis is expensive and, for children under the age of 12, is only offered at the University Hospital of the West Indies (UHWI), as there is no free public-heath facility that supports this.
The majority of parents of these children are poor and cannot pay for treatment, though it is still being provided for them by the hospital.
The condition is critical, as the UHWI is having grave financial difficulties and paediatric dialysis has to be heavily supported by donations of supplies from charitable organisations such as the Jamaica Kidney Kids Foundation, the Bridge of Life-DaVita Medical Missions (a United States charity) and the Issa Trust Foundation.
The Bustamante Hospital for Children, which has no user fees, does not provide paediatric-chronic dialysis.
A more permanent solution to securing subsidised dialysis and eventually kidney transplantation for the vulnerable and voiceless children with end stage renal failure needs to be a national priority.
Dr Maolynne Miller is a paediatrician and paediatric nephrologist based at the University Hospital of the West Indies. She is also director of the Jamaica Kidney Kids Foundation Limited.