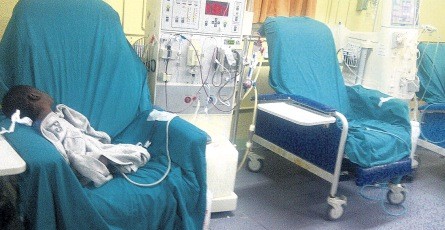 Sunday Observer
Sunday | June 30, 2013 by Donna Hussey-Whyte (husseyd@jamaicaobserver.com)
EACH year, about six new children develop chronic kidney failure in Jamaica. An estimated 40 children are currently living with chronic kidney disease and the Jamaica Kidney Kids Foundation is dedicated to ensuring their care.
Dr Maolynne Miller, founder of the non-profit organisation which was registered in July last year, said that the foundation is committed to seeing a paediatric dialysis facility built so that no child will die from lack of treatment.
"Children develop kidney failure either suddenly (example after trauma or infection) or gradually from birth defects or kidney inflammation," Dr Miller said. "When the kidney fails, dialysis is needed either permanently or briefly until recovery occurs."
She said that currently, dialysis for children under age 12 is available only at the University Hospital of the West Indies where children and adults vie for resources. She said that a dialysis unit dedicated only to children is needed urgently.
"Without dialysis, children whose kidneys fail, will die," she said.
Some of the goals of the Foundation are: to assist in funding construction and equipping a paediatric dialysis facility in Kingston costing no less than $20 million; helping to establish paediatric dialysis across the island; donation of equipment to dialysis facilities; training of staff in paediatric dialysis, and training paediatric nephrologists for major hospitals in Jamaica.
"At present there are only three paediatric nephrologists in Jamaica and all are in Kingston," Dr Miller said. "There are no local or regional training centres in paediatric nephrology so training must be obtained abroad."
She stated that Jamaican paediatricians who obtain paediatric nephrology fellowship training will return to Jamaica to serve in rural hospitals and enable more children to benefit from specialised care, including dialysis.
The goals of the foundation therefore are: finding fellowships in paediatric nephrology (the specialty of the kidney disease in children); Annual scholarships for paediatric nephrology trainees; educating physicians islandwide in the recognition and care of children with kidney disease; and educating communities islandwide in the early recognition of kidney disease in children.
Despite being younger than a year old, the Kidney Kids Foundation has been making strides.
"We have been able to obtain provisional acceptance for paediatric nephrology fellowships for two Jamaican doctors in Quebec University of McGill in Montreal, but each candidate must be independently funded," Dr Miller said.
Last year's candidate was awarded US$36,000 towards her fellowship training by the International Society of Nephrology. However, the total cost of the fellowship is Can$144,000 for the two-year-programme.
"So we continue to appeal for donations," Dr Miller said. "We urgently need to raise at least the remaining Can$36,000 by the end of June to early July 2013 to at least guarantee her first year of training," she said.
Proposals have been submitted to the CHASE Fund and Grace Kennedy Foundation as well as Pharmaceutical Companies and the Royal Bank of Canada.
Jamaica Kidney Kids Foundation, with the sponsorship of the Issa Trust Foundation and the International Paediatric Nephrology Association (IPNA), will be hosting an intensive workshop at Couples Resort Ocho Rios on October 5 and 6 to train paediatricians in rural hospitals to manage children with chronic kidney disease (and dialysis) in a manner similar to that of paediatric nephrologists.
"This will enable children who cannot afford to travel to Kingston to access specialised care," Dr Miller said. "Paediatric kidney specialists from abroad will join our local consultants in this meeting and in the outreach to hospitals which follows," Dr Miller added.